The so-called comprehensive material(Mixed Sculpture), in short, is the comprehensive application of two or more materials. The comprehensive material performance of sculptures is to apply a variety of materials to a sculpture to make the sculpture form a new material attribute and artistic language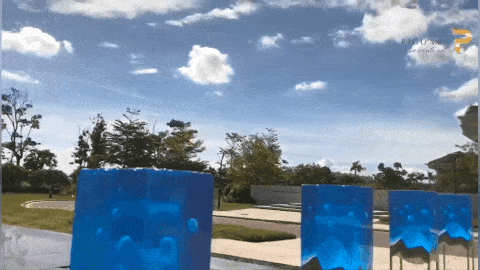 Pico Art Professional Clear Resin Sculpture with Stainless Steel Support manufacturers,No matter whether it's a big or small project, we can handle it.As you can see this clear resin, it is made into the block inlcuded the sea and island.It looks great as it just like the island around the sea which is so blue.Or it also looks like the seabed if you close to see it.The support made with stainless steel, can be more stronger and stable to protect the clear resin sculpture.Customized servide is one of our advantage, just contact us if you need.
Pico Art High Quality Creative Furniture Art Table Wholesale - Pico Art Co., ltd.,Our sculptures add luster to the urban landscape.It is made with mixed material, the clear resin and metal stand.It looks like a river gurgling through the mountains, the kind of continuous feeling, symbolizing endless life.The surface has a smooth effect and is protected against fingerprints, which can effectively prevent the traces from sticking to the touch.In addition to artistic design, we are also constantly pursuing quality and improvement in craftsmanship, hoping to bring customers a better experience.
Pico Art Intro to Metal Iron Cabin with Wood Stand Mixed Sculpture Pico Art,Metal sculpture is our expertise and passion.This is a mixed material design. The upper part is a set of metal iron huts, the lower part is a wooden stump, and the bottom part is a marble base. The fixed part is stainless steel, strictly speaking, there is a mixture of four materials.This mixed material sculpture is also a very popular product in the past two years. Our old customers have repurchased it many times this year, because there are too many scenes that can be placed, whether it is a high-end five-star hotel. , Or luxurious villas, atmospheric private clubs, or large-scale integrated indoor furnishings, are all applicable.In addition to indoor decorations, our main products are large outdoor sculptures and large indoor sculptures. Customization has always been one of our strengths, please contact us if you have any needs.