Intro to Mirror Finish Electro Plating Gold Wall Art for Wall Decoration -- Pico Art
Pico Art Intro to Mirror Finish Electro Plating Gold Wall Art for Wall Decoration Pico Art,We have 18 years experience of making sculptures
This is a stainless steel electroplated mirror ornament, so what is electroplating?
Some people call stainless steel vacuum ion plating called stainless steel electroplating, and some people call stainless steel water plating called stainless steel electroplating. Stainless steel vacuum ion plating is a method of forming a metal film on the plastic surface by heating it under high vacuum conditions to make it melt and evaporate, and cool it down. The stainless steel water plating is to attach a colored film to the surface of the material by electrolysis. Compared with the two, vacuum ion coating is more environmentally friendly, has a longer service life, and has a brighter color! In people's habitual conversations about electroplating technology, in electrochemical experiments, stainless steel is always described as a "difficult substrate", but in actual production, stainless steel electroplating is not difficult. For example, for copper plating and titanium plating on stainless steel, a very thin nickel layer must be pre-plated first, and any subsequent plating layer will be firm. Of course, the surface treatment before electroplating is very important, and this item is often not taken seriously by many electroplating workers. Electroplating is a technology that integrates multiple processes, and every link is sloppy. It is an important indicator of the final electroplating quality. In addition to the above, it is related to the ratio, liquid temperature, time, and post-treatment.
The product is equipped with an advanced RO system. The scale inhibitor has been added to the RO system, which helps remove calcium and magnesium metal ions from the water.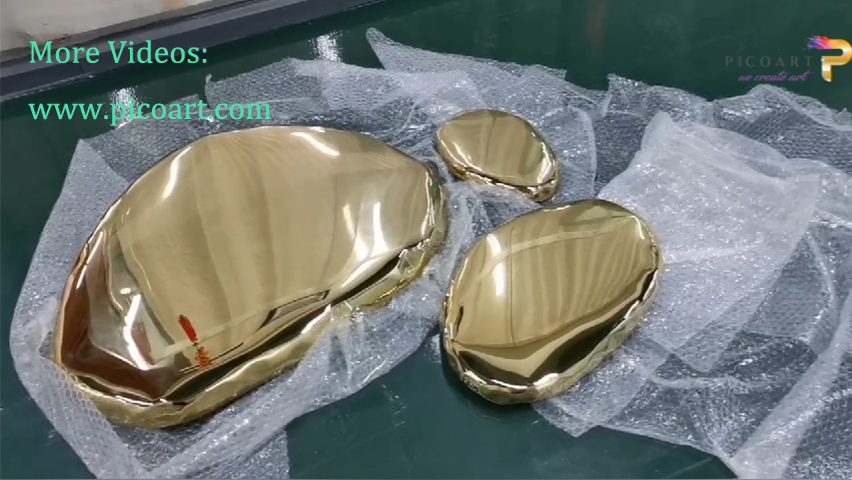 FAQ
1.Can you send me big images before I place a order?
Yes, we will send you clear images to let you know more details about it. We will show you the video if it is in stock.
2.How long will it takes for the production?
Normal about 25 days. it will confirm with us before you place order. because the delivery date effected by several factors, such as designs, size or quantity etc.
3.How about the shipment methods:
As your requirement, normally samples by international express, or by air. Bulk order will be by sea. Also you can arrange your shipper to pick up in our warehouse.
Advantages
1.Metal sculpture is our expertise and passion.
2.Metal sculpture is our strong point.
3.Sculpture is the focus of a space.
4.Our sculptures add luster to the urban landscape.
About Pico Art
Pico Art Co., ltd was established in 2004. We are professional manufacturer and agent dealing with
oil painting
and sculpture. As everyone knows Painting & sculpture belong to the same family. Our oil paintings are 100% hand-made created by talented artists graduated from famous art schools. In the sculpture design and manufacturing, we integrate different cultures & fashion elements into art by using abundant materials such as resin, fiberglass, stainless steel, iron, copper etc. We do not only create the original works, but also do as customized requirements. Over the past 18 years, we have been successfully working with our regular customers from over 100 countries such as Holland, USA, Italy, France, Belgium, Australia, Thailand, Singapore, Japan, Russia and Dubai etc. We're quite confident and experienced in quality control as per customer's requirements. Our mission is "DO ART AS YOU WISH" to provide our customer with the finest artwork and best service at the most competitive prices. Our works have been widely used in Five-star hotels, Villas, private Clubs, property, public garden and outdoor landscape Let's work hand in hand for your market!
Add a comment
Comment
IF YOU HAVE MORE QUESTIONS,WRITE TO US
Just tell us your requirements, we can do more than you can imagine.