Best Customized Spraying Coating Green Mirror Finish Stainless Steel Wall Art Supplier
Pico Art Best Customized Spraying Coating Green Mirror Finish Stainless Steel Wall Art Supplier,Metal sculpture combines the hard and soft
Spraying (spraying), thermal plastic spray coating. It is a technique of manufacturing a car in the state of an automobile by spraying a power device onto the surface of materials such as metals, alloys, ceramics, etc., with a whole layer of coating technology.
The materials are all heat sources of metal or non-metal, using their own power or external compressed hot air flow to atomize or explode the molten droplets into a sprayed particle beam, which is sprayed onto the surface of the substrate at a certain speed to form a layer.
The heat sources used are gas combustion fire filling, gas jet heat, electric heating and laser.
Man-made processing can improve its sensitivity, heat resistance and wear resistance, increase its thickness or repair size, etc.
Pico Art always follows strict quality assurance guidelines to produce .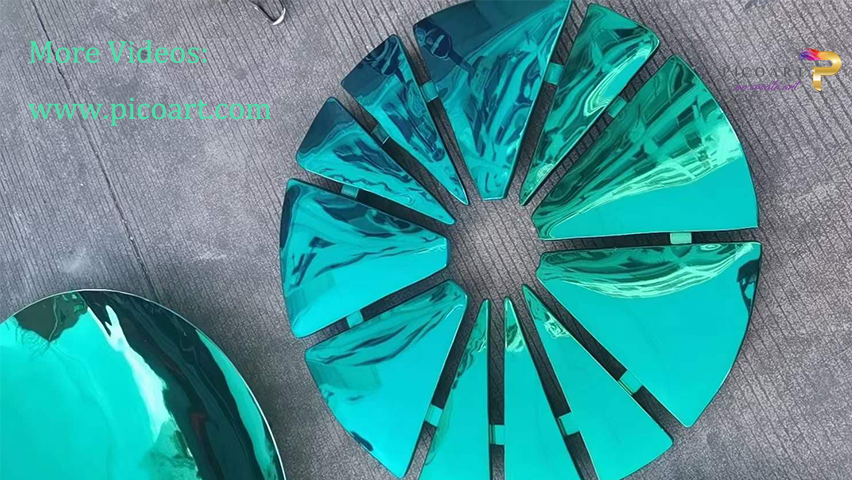 FAQ
1.Can you make a sculpture with a concept?
Yes, we can work with you together even start with a concept.
2.Can I order custom sculpture?
Yes, welcomed and it is our strong point. Most of our products is customized and we offer them to many famous five stars hotels.
3.I would like to know the packaging of sculptures.
We enclose the picture of packaging for your reference. Inner package with foam/bubble/blanket;
Advantages
1.Metal sculpture combines the hard and soft
2.Metal sculpture is our strong point.
3.Our sculptures add luster to the urban landscape.
4.ART AS YOU WISH,WE DO ART AS YOU WISH.
About Pico Art
Pico Art Co., ltd was established in 2004. We are professional manufacturer and agent dealing with
oil painting
and sculpture. As everyone knows Painting & sculpture belong to the same family. Our oil paintings are 100% hand-made created by talented artists graduated from famous art schools. In the sculpture design and manufacturing, we integrate different cultures & fashion elements into art by using abundant materials such as resin, fiberglass, stainless steel, iron, copper etc. We do not only create the original works, but also do as customized requirements. Over the past 18 years, we have been successfully working with our regular customers from over 100 countries such as Holland, USA, Italy, France, Belgium, Australia, Thailand, Singapore, Japan, Russia and Dubai etc. We're quite confident and experienced in quality control as per customer's requirements. Our mission is "DO ART AS YOU WISH" to provide our customer with the finest artwork and best service at the most competitive prices. Our works have been widely used in Five-star hotels, Villas, private Clubs, property, public garden and outdoor landscape Let's work hand in hand for your market!
Add a comment
Comment
IF YOU HAVE MORE QUESTIONS,WRITE TO US
Just tell us your requirements, we can do more than you can imagine.