Stainless Steel Sculpture on Polishing Process
1. Features of mirror stainless steel sculpture
   Mirror stainless steel is one of the stainless steel products formed by polishing the surface of the material. It has various appearances and metallic luster. Like other members of the stainless steel family, it has corrosion resistance, no rust, high toughness, and easy
The installation is fixed and reliable.
  2, the advantages of mirror stainless steel sculpture
   Mirror stainless steel can make high-level visual effects at low cost. In recent years, in the landscape design of sculpture companies, it is often used to design sculptures, structures, etc.
  The mirror surface of the stainless steel sculpture can form a reflection, projecting the surrounding scenery through the mirror image, reflecting the real content in the form of void. In landscape design, you can enlarge the space and improve the design by adding mirror stainless steel design.
Form a sense of science and technology, a sense of the future.
3. Disadvantages of mirror stainless steel sculpture
  If improperly used, it will also cause light pollution, easy to scratch, and affect the appearance. It needs to strengthen the post-maintenance. Of course, mirror stainless steel should not be used too much. It will bring tension to people and cause a sense of space experience.
   Mirror stainless steel sculpture has advantages and disadvantages. In the process of using, there are many precautions. In the next article, the editor will tell you how to maintain mirror stainless steel sculpture. Remember to come
Pico Art will be scrutinized in an all-round way. Failure analysis will be conducted once it is finished, including fatigue failure, corrosion failure, toughness and brittle fracture, etc.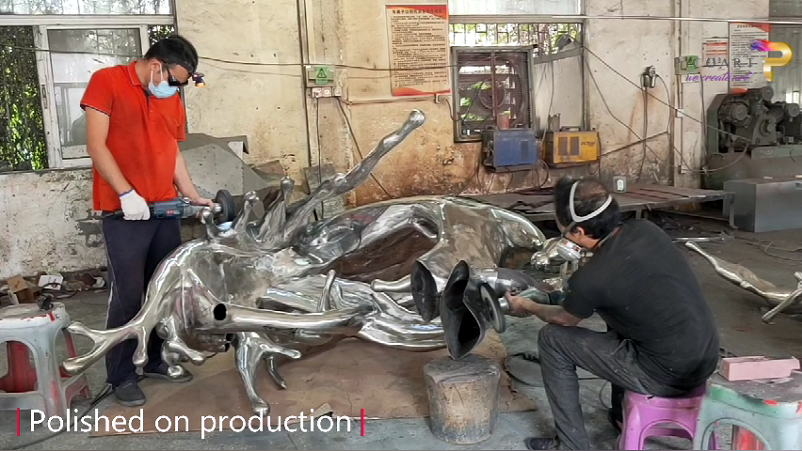 FAQ
1.Can you provide samples?
Yes we can. Sample is available, but client need to bear the sample fee and shipping cost. If for mass order, sample fee can be deducted in later order.
2.Does Pico Have MOQ?
Depends on actual design, normally it is 5 pieces for our standard designs. If it is customized design or it is big item, the quantity can be less, even one piece.
3.I would like to know the packaging of sculptures.
We enclose the picture of packaging for your reference. Inner package with foam/bubble/blanket;
Advantages
1.No matter whether it's a big or small project, we can handle it.
2.ART AS YOU WISH,WE DO ART AS YOU WISH.
3.We are the manufacture of sculpture
4.Sculpture is the focus of a space.
About Pico Art
Pico Art Co., ltd was established in 2003. We are professional manufacturer and agent dealing with
oil painting
and sculpture. As everyone knows Painting & sculpture belong to the same family. Our oil paintings are 100% hand-made created by talented artists graduated from famous art schools. In the sculpture design and manufacturing, we integrate different cultures & fashion elements into art by using abundant materials such as resin, fiberglass, stainless steel, iron, copper etc. We do not only create the original works, but also do as customized requirements. Over the past 18 years, we have been successfully working with our regular customers from over 100 countries such as Holland, USA, Italy, France, Belgium, Australia, Thailand, Singapore, Japan, Russia and Dubai etc. We're quite confident and experienced in quality control as per customer's requirements. Our mission is "DO ART AS YOU WISH" to provide our customer with the finest artwork and best service at the most competitive prices. Our works have been widely used in Five-star hotels, Villas, private Clubs, property, public garden and outdoor landscape Let's work hand in hand for your market!
Add a comment
Comment
IF YOU HAVE MORE QUESTIONS,WRITE TO US
Just tell us your requirements, we can do more than you can imagine.