Spray Coating Technolog for Sculptures including Spray Painting with Fire Burning Supplier & manufacturers | Pico Art
Spraying is a coating method that is dispersed into uniform and fine droplets by means of pressure or centrifugal force through a spray gun or disc atomizer and applied to the surface of the object to be coated. 
It can be divided into air spraying, airless spraying, electrostatic spraying and various derivatives of the above-mentioned basic spraying forms, such as high-flow and low-pressure atomizing spraying, thermal spraying, automatic spraying, multi-group spraying, etc.
At present, there are four main types: arc spraying, flame spraying, plasma spraying and explosive spraying. Using spraying technology, coatings with wear resistance, corrosion resistance, heat insulation, electrical conductivity, insulation, sealing, lubrication and other special mechanical physical and chemical properties can be obtained on various substrates. The application range is very wide, involving all sectors of the national economy and various fields including cutting-edge technology.
The product has good dimensional stability. It has been checked in terms of torque, stretch, recovery, and shrinkage, which proves its stable sizes.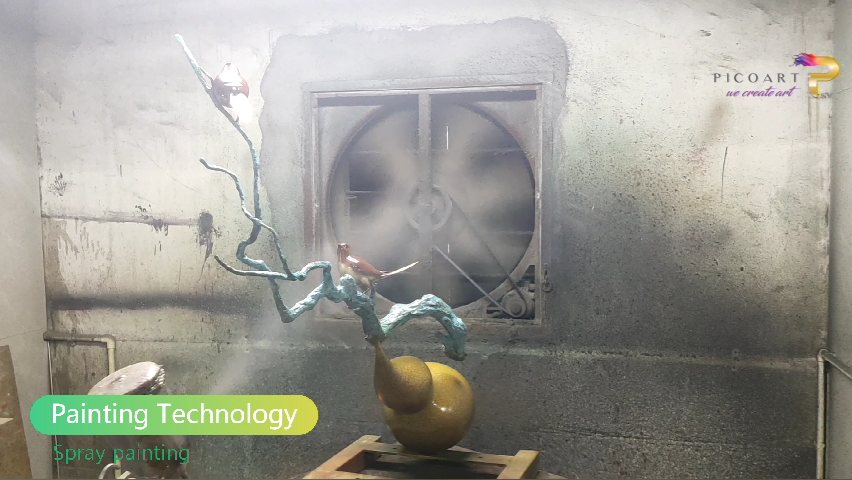 FAQ
1.Can you send me big images before I place a order?
Yes, we will send you clear images to let you know more details about it. We will show you the video if it is in stock.
2.How about the shipment methods:
As your requirement, normally samples by international express, or by air. Bulk order will be by sea. Also you can arrange your shipper to pick up in our warehouse.
3.Can I order custom sculpture?
Yes, welcomed and it is our strong point. Most of our products is customized and we offer them to many famous five stars hotels.
Advantages
1.Metal sculpture is our strong point.
2.Sculpture is the focus of a space.
3.Metal sculpture is our expertise and passion.
4.Our sculptures add luster to the urban landscape.
About Pico Art
Pico Art Co., ltd was established in 2003. We are professional manufacturer and agent dealing with
oil painting
and sculpture. As everyone knows Painting & sculpture belong to the same family. Our oil paintings are 100% hand-made created by talented artists graduated from famous art schools. In the sculpture design and manufacturing, we integrate different cultures & fashion elements into art by using abundant materials such as resin, fiberglass, stainless steel, iron, copper etc. We do not only create the original works, but also do as customized requirements. Over the past 18 years, we have been successfully working with our regular customers from over 100 countries such as Holland, USA, Italy, France, Belgium, Australia, Thailand, Singapore, Japan, Russia and Dubai etc. We're quite confident and experienced in quality control as per customer's requirements. Our mission is "DO ART AS YOU WISH" to provide our customer with the finest artwork and best service at the most competitive prices. Our works have been widely used in Five-star hotels, Villas, private Clubs, property, public garden and outdoor landscape Let's work hand in hand for your market!
Add a comment
Comment
IF YOU HAVE MORE QUESTIONS,WRITE TO US
Just tell us your requirements, we can do more than you can imagine.