Best Clear Resin Art Standing Sculpture Show Room Modern Abstract Crystal Statues
Transparent resin refers to a transparent resin.
The mold making process of the transparent resin process usually uses silicone rubber to make the mold.
The glass resin process is the earliest and most common molding method used in the production of resin matrix composites. The hand lay-up process is based on a resin mixture with a curing agent as a matrix, glass fiber and its fabric as a reinforcing material, and is manually laid on a mold coated with a release agent to bond the two together. A process method for manufacturing glass fiber reinforced plastic products. The matrix resin is usually unsaturated polyester resin or epoxy resin, and the reinforcing material is usually alkali-free or medium-alkali glass fiber and its fabric. In the hand lay-up process, less mechanical equipment is used, and it is suitable for the production of multi-variety and small-batch products, and is not limited by the type and shape of the products.
The production process of unsaturated polyester transparent resin imitating crystal is mainly made of completely transparent crystal resin, which is formed by one-time infusion. To produce this product, raw materials are the key. First of all, it is necessary to choose a good transparent resin and colorless cobalt accelerator and curing agent. This is a necessary prerequisite for making resin imitation crystal crafts.
The appearance of Pico Art is designed by top-class R&D team.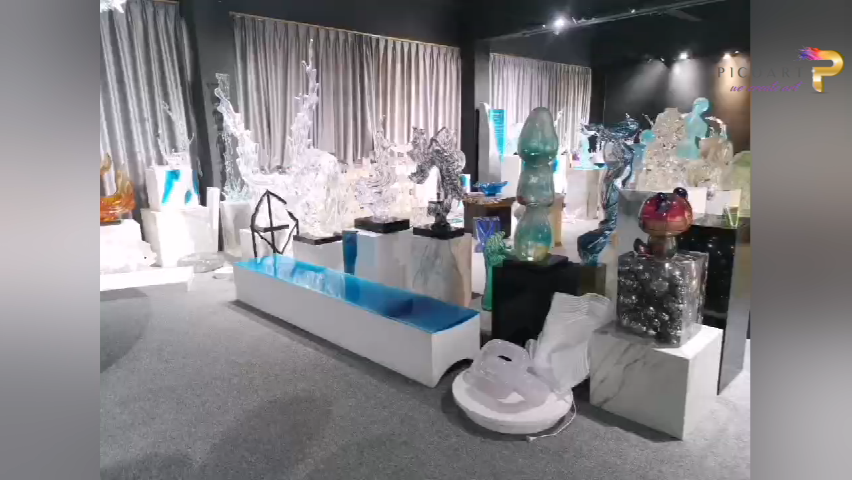 FAQ
1.How long will it takes for the production?
Normal about 25 days. it will confirm with us before you place order. because the delivery date effected by several factors, such as designs, size or quantity etc.
2.Can you offer 3D service ?
Yes, we can . we can offer 3D design or 3D printing model.
3.Can you provide samples?
Yes we can. Sample is available, but client need to bear the sample fee and shipping cost. If for mass order, sample fee can be deducted in later order.
Advantages
1.Sculpture is the focus of a space.
2.Metal sculpture combines the hard and soft
3.Metal sculpture is our expertise and passion.
4.ART AS YOU WISH,WE DO ART AS YOU WISH.
About Pico Art
Pico Art Co., ltd was established in 2003. We are professional manufacturer and agent dealing with
oil painting
and sculpture. As everyone knows Painting & sculpture belong to the same family. Our oil paintings are 100% hand-made created by talented artists graduated from famous art schools. In the sculpture design and manufacturing, we integrate different cultures & fashion elements into art by using abundant materials such as resin, fiberglass, stainless steel, iron, copper etc. We do not only create the original works, but also do as customized requirements. Over the past 18 years, we have been successfully working with our regular customers from over 100 countries such as Holland, USA, Italy, France, Belgium, Australia, Thailand, Singapore, Japan, Russia and Dubai etc. We're quite confident and experienced in quality control as per customer's requirements. Our mission is "DO ART AS YOU WISH" to provide our customer with the finest artwork and best service at the most competitive prices. Our works have been widely used in Five-star hotels, Villas, private Clubs, property, public garden and outdoor landscape Let's work hand in hand for your market!
Add a comment
Comment
IF YOU HAVE MORE QUESTIONS,WRITE TO US
Just tell us your requirements, we can do more than you can imagine.