China stainless steel ball welding bull sculpture manufacturers - Pico Art
The bull sculpture made of welded stainless steel balls has no problem with the overall proportion of the shape, but the small stainless steel balls are welded in series, but the overall image of the bull is portrayed more vividly and more interestingly.
The decoration of the sculpture itself will increase the artistic atmosphere and emotional expression of the environment, and the starting point of designing the sculpture is to better integrate into the environment itself without appearing abrupt, which is a test experience for designers. and perspective work.
The design of Pico Art is human-oriented. It takes various factors into consideration, including the functionality and practicality that bring to people's life, convenience, and safety level.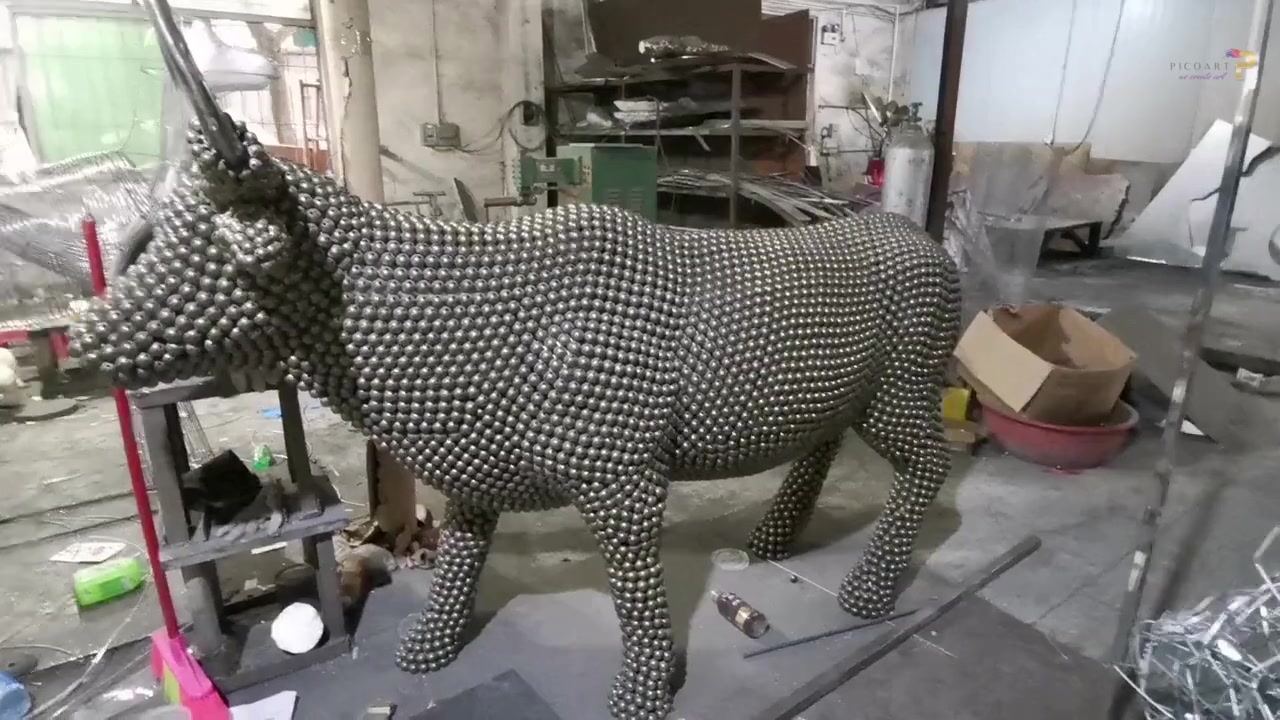 FAQ
1.Can you send me big images before I place a order?
Yes, we will send you clear images to let you know more details about it. We will show you the video if it is in stock.
2.Can you offer 3D service ?
Yes, we can . we can offer 3D design or 3D printing model.
3.Can you make a sculpture with a concept?
Yes, we can work with you together even start with a concept.
Advantages
1.We are the manufacture of sculpture
2.WE DO CREATIVE ART.WE CREATE ART.
3.We have 18 years experience of making sculptures
4.Our sculptures add luster to the urban landscape.
About Pico Art
Pico Art Co., ltd was established in 2003. We are professional manufacturer and agent dealing with oil painting and sculpture. As everyone knows Painting & sculpture belong to the same family. Our oil paintings are 100% hand-made created by talented artists graduated from famous art schools. In the sculpture design and manufacturing, we integrate different cultures & fashion elements into art by using abundant materials such as resin, fiberglass, stainless steel, iron, copper etc. We do not only create the original works, but also do as customized requirements. Over the past 18 years, we have been successfully working with our regular customers from over 100 countries such as Holland, USA, Italy, France, Belgium, Australia, Thailand, Singapore, Japan, Russia and Dubai etc. We're quite confident and experienced in quality control as per customer's requirements. Our mission is "DO ART AS YOU WISH" to provide our customer with the finest artwork and best service at the most competitive prices. Our works have been widely used in Five-star hotels, Villas, private Clubs, property, public garden and outdoor landscape Let's work hand in hand for your market!
Product Introduction Company Introduction
Established in the year 2003 at CHINA, we Pico Art Co., ltd. are a Sole Proprietorship (Individual) based company, involved as the manufacturer and supplier of Sculpture, wall art and many more. All our offered products are thoroughly manufactured under the direction of excellence controllers using best raw material and innovative technology in adherence to quality norms. In addition, these products are strictly examined on numerous quality parameters before final dispatch. Our design and development is also focused on releasing new products on a regular basis and keeping up with the technology of the items to ensure that we remain on the edge with the latest development in terms of technology. Our warranty is our promise of the best offered to the customers at all times and therefore strive to give the longest industry warranties to ensure the customers feel and confident in the product they purchase, as it is our belief that we have the expertise to give some of the best products to our customers at a competitive price.
Add a comment
Comment
IF YOU HAVE MORE QUESTIONS,WRITE TO US
Just tell us your requirements, we can do more than you can imagine.