Best Stereoscopic Wood Tree with Lights - Pico Art
Pico Art Best Stereoscopic Wood Tree with Lights Company - Pico Art,We have 18 years experience of making sculptures
This is a three-dimensional tree with a strong sense of three-dimensionality. It is made up of blocks and strips of wood. The most distinctive feature is the large light bulbs hanging on the tree.
This should be a kind of street lamp, and it is also a popular direction of art sculpture combined with modern technology. In the past, sculptures were highly ornamental and decorative products, but now they often combine practical functions with practical use value such as lights to serve as props in certain aspects.
With concept, is designed, which is of .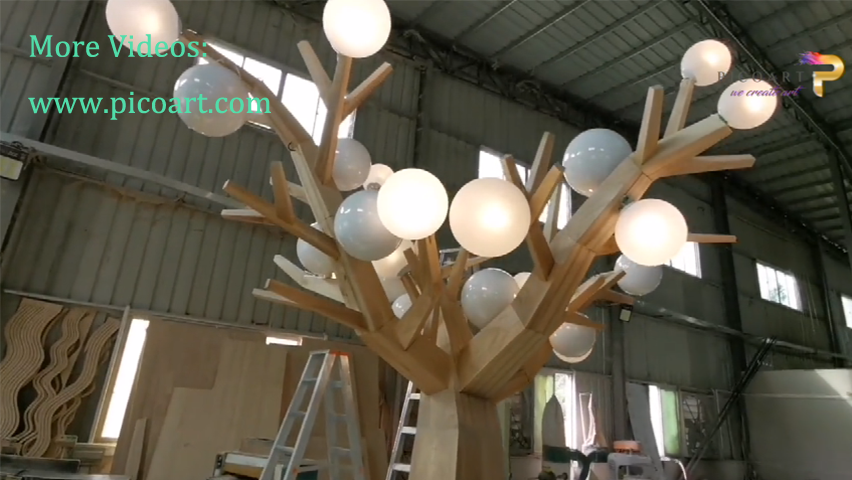 FAQ
1.Can I order custom sculpture?
Yes, welcomed and it is our strong point. Most of our products is customized and we offer them to many famous five stars hotels.
2.How do you control the quality
We have QC department and the supervisor with 18 years experience.
3.Can you send me big images before I place a order?
Yes, we will send you clear images to let you know more details about it. We will show you the video if it is in stock.
Advantages
1.Sculpture is the focus of a space.
2.We have 18 years experience of making sculptures
3.No matter whether it's a big or small project, we can handle it.
4.ART AS YOU WISH,WE DO ART AS YOU WISH.
About Pico Art
Pico Art Co., ltd was established in 2004. We are professional manufacturer and agent dealing with
oil painting
and sculpture. As everyone knows Painting & sculpture belong to the same family. Our oil paintings are 100% hand-made created by talented artists graduated from famous art schools. In the sculpture design and manufacturing, we integrate different cultures & fashion elements into art by using abundant materials such as resin, fiberglass, stainless steel, iron, copper etc. We do not only create the original works, but also do as customized requirements. Over the past 18 years, we have been successfully working with our regular customers from over 100 countries such as Holland, USA, Italy, France, Belgium, Australia, Thailand, Singapore, Japan, Russia and Dubai etc. We're quite confident and experienced in quality control as per customer's requirements. Our mission is "DO ART AS YOU WISH" to provide our customer with the finest artwork and best service at the most competitive prices. Our works have been widely used in Five-star hotels, Villas, private Clubs, property, public garden and outdoor landscape Let's work hand in hand for your market!
Add a comment
Comment
IF YOU HAVE MORE QUESTIONS,WRITE TO US
Just tell us your requirements, we can do more than you can imagine.