Intro to Outdoor Stainless Steel Crane for Fountain -- Pico Art
Pico Art Intro to Outdoor Stainless Steel Crane for Fountain Pico Art,Metal sculpture combines the hard and soft
The crane generally refers to the red-crowned crane. The crane is the legendary fairy bird, the mount of the fairy. Because he often accompanies the immortals, he is also endowed with the meaning of prolonging life and good luck. In ancient times, the crane was "under one bird, above ten thousand birds", second only to the "first grade bird" of the phoenix. The crane is independent, looks forward to the distance, has a graceful posture, and the colors are neither gorgeous nor delicate, elegant and generous. People make this kind of long-lived and auspicious birds into sculptures and place them in squares, parks, scenic spots and other occasions, expressing their hope for good luck.
   This stainless steel abstract crane is made of stainless steel, using abstract expression techniques. The stainless steel material is easy to play an abstract style. Stainless steel is resistant to air, steam, water and other corrosive media and acid and alkali salts. Because of the many advantages of stainless steel sculptures, stainless steel sculptures are the first to beautify buildings in many cities.
Professional staff strictly check, to ensure that products always maintain the highest quality.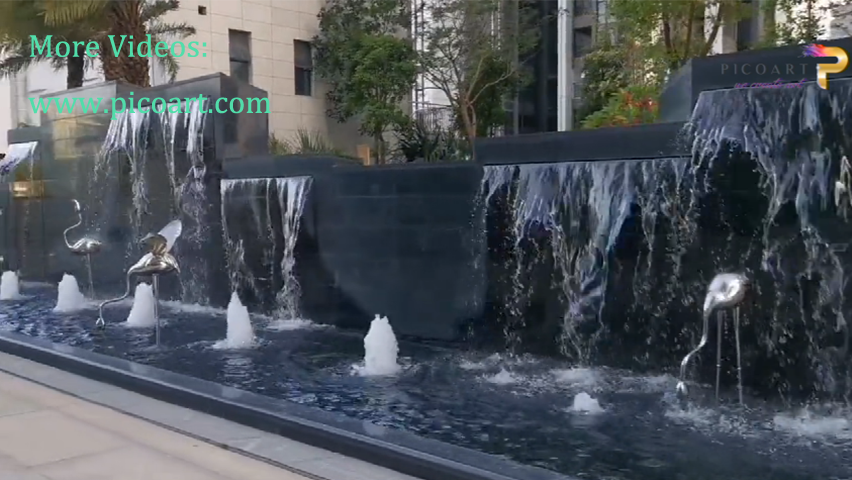 FAQ
1.Can I order custom sculpture?
Yes, welcomed and it is our strong point. Most of our products is customized and we offer them to many famous five stars hotels.
2.I would like to know the packaging of sculptures.
We enclose the picture of packaging for your reference. Inner package with foam/bubble/blanket;
3.Can you make a sculpture with a concept?
Yes, we can work with you together even start with a concept.
Advantages
1.No matter whether it's a big or small project, we can handle it.
2.We are the manufacture of sculpture
3.Our sculptures add luster to the urban landscape.
4.WE DO CREATIVE ART.WE CREATE ART.
About Pico Art
Pico Art Co., ltd was established in 2004. We are professional manufacturer and agent dealing with
oil painting
and sculpture. As everyone knows Painting & sculpture belong to the same family. Our oil paintings are 100% hand-made created by talented artists graduated from famous art schools. In the sculpture design and manufacturing, we integrate different cultures & fashion elements into art by using abundant materials such as resin, fiberglass, stainless steel, iron, copper etc. We do not only create the original works, but also do as customized requirements. Over the past 18 years, we have been successfully working with our regular customers from over 100 countries such as Holland, USA, Italy, France, Belgium, Australia, Thailand, Singapore, Japan, Russia and Dubai etc. We're quite confident and experienced in quality control as per customer's requirements. Our mission is "DO ART AS YOU WISH" to provide our customer with the finest artwork and best service at the most competitive prices. Our works have been widely used in Five-star hotels, Villas, private Clubs, property, public garden and outdoor landscape Let's work hand in hand for your market!
Add a comment
Comment
IF YOU HAVE MORE QUESTIONS,WRITE TO US
Just tell us your requirements, we can do more than you can imagine.